Upton Food Bank
821 Holly St. • PO Box 683 • Upton, WY 82730
United States
Mon 1pm-3pm and Th 9am-11am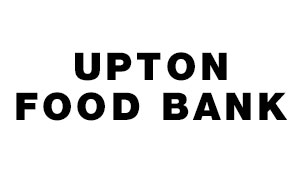 The Upton Food Bank moved into its present building in 2005 when the Upton Seventh Day Adventist Church took it on as a ministry. The building was paid off over the next ten years. Initially, the Food Bank was run by the Upton Methodist Church.
The Upton Food Bank is staffed by Mike and Nancy Dodd, as well as six volunteers. It is administered through the church's 501 (c) 3 so all donation checks have to be made out to the church with "food bank" in the memo for donors to receive donation receipts for tax purposes. Food donations will be weighed and then a donation receipt will be given. They are always appreciative of food donations, but also welcome such items as paper goods (kitchen and bath), toothpaste, toothbrushes, soap, laundry soap, shampoo, etc. They are there to cover the gaps when people just arrive in Upton or perhaps are between jobs, everybody needs help sometimes. Recently, three boy scouts and two little girls collected 845 pounds of food. "I'm so proud of our young people" says Mike Dodd. "We are so blessed by Unker's Therapeutic Products, they pay for our utilities with a little extra to help with costs; also, Joe's Food Center is a big contributor." He also added, "We have never run out of food, we came close a couple of times, but have never run out."
Upcoming events are: the Upton Elementary School students will be out "trick or treating" for food on Saturday, October 28th; the WCSD#7 organizations FCCLA, FBLA, FFA, and others also plan to gather food for the food bank; Thanksgiving baskets for those who might not otherwise have the means for a holiday meal: the signup for baskets must be made by Wednesday, November 1st for delivery by Monday, November 20th; Christmas baskets will also be put together for delivery on Thursday, December 21st, you can contact The Upton Food Bank for the signup deadline; the next Portable Pantry will be around the end of this year or the beginning of next year, this is unrestricted and anyone can come get a pre-selected assortment of food.
The Upton Food Bank is open on Mondays from 1:00 to 3:00 p.m., and Thursdays from 9:00 to 11:00 a.m.