From the Oilfield to the TV Screen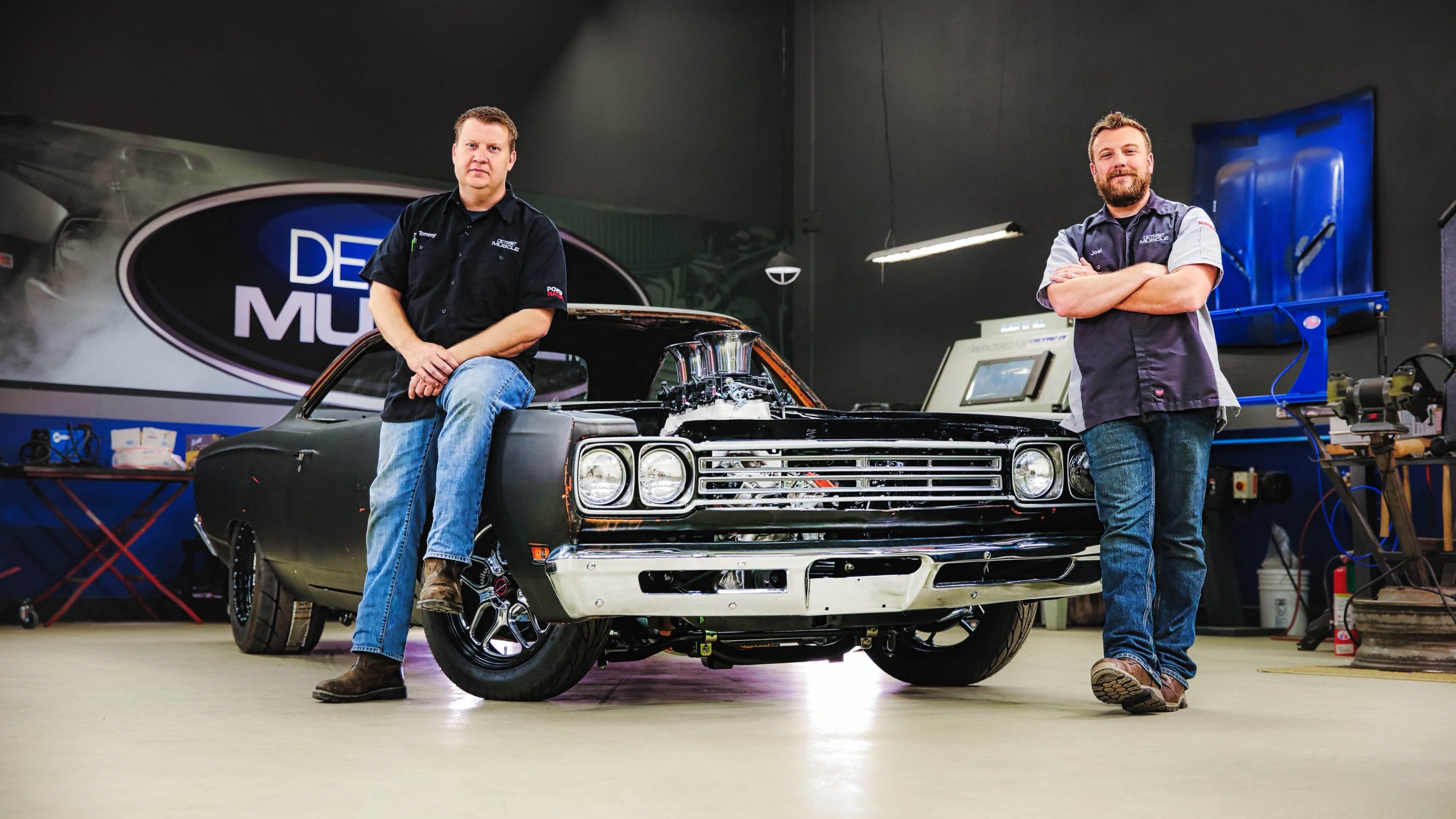 The McMillan clan has always had a passion for cars. For Upton, Wyoming native Joel McMillan, this passion led to an opportunity to leave his oilfield life behind for a life on the big screen.
Growing up, Joel, parents Tom and Diana McMillan, and family, were always around cars. From going to car shows to working on classic cars of their own, the McMillan family would do anything that revolved around the automotive industry. Joel remembers watching every car show possible and idolizing those on the shows. That passion led Joel to go to school in Casper, Wyoming for Collision Repair and Auto Body Technology.
While the Joel initially followed his passion after high school, life took him in a different direction to the oil field. It was in that industry where he worked out of school for almost 10 years until the opportunity of a lifetime arose in 2020.
TikTok
In the midst of the Covid-19 Pandemic in Spring 2020, the oil industry experienced a devastating crash, leaving thousands in the industry unemployed, including McMillan. At that time, Joel hadn't really heard of TikTok, the app designed for creating, sharing and discovering a variety of videos. It didn't appeal to him at first, but after his wife, Chelsea downloaded the app, the two realized the app had developed from "funny videos and dancing to music, to DIY projects and more", according to Joel.
"I thought to myself, there's not a whole lot of people posting car stuff on there and I've got a lot of time on my hands. I talked to Chelsea about it and she was the one that convinced me to talk to my brother to see if he would bring up my Chevelle and I'd start working on it," Joel explained.
Joel's brother Justin McMillan did just that. In September 2020, Justin made the trip from Upton to Casper to drop off Joel's 1969 Chevelle, the car he drove in high school. With the idea of making a video to document the process in mind, Joel began filming as soon as Justin arrived.
"I immediately started filming Justin pulling up and opening the trailer door and I was pulling it out and unloading it," mentioned Joel.
Joel worked on the car the first day that it arrived and started filming time lapses and videos of him working on his car. After putting the video together and doing a voice over, he didn't post the video right away, mentioning that he forgot about the video for a couple of days. He posted the video one night at 8:30 p.m., and only received 13 views and one like before going to bed. It was that next morning when his life changed forever.
When Joel woke up the next morning and checked his TikTok, he was astounded to open the app to 30,000 new followers and over one million views on the video. While he hadn't planned on the video going viral, the sequence of events lined up perfectly for it to do just that.
With that one video going viral, Joel continued to make videos to document the process of his restoration. As he continued to upload the videos, they kept going viral. With every video that went viral, came the increased demand for new content. Ultimately, this once simple process became a mentally consuming project for Joel, who had to walk away from TikTok because of the mental strain it became to create.
"When you get that kind of attention, you get that demand of a lot of people. You feel like if you're not doing it, you're letting everybody down, so you get harder on yourself. That's why I kind of had to step away from it for a while because it just wasn't doing me any good. It became damaging for my mental health," Joel explained.
Joel continued to create videos off and on, as well as he started creating YouTube videos on top of TikTok. When he realized that his passion wouldn't be able to pay the bills, he made the difficult decision to go back to the oilfield. Joel worked from January to October 2021 in the oilfield, until one email led to an opportunity of a lifetime.
Opportunity of a Lifetime
In October 2021, Joel had been on a job in the oilfield working for 38 hours straight, stuck in a hole with no relief. He states in that moment feeling like there had to be something better out there for him. When waiting on a company man he was working with, he checked an email to see what he thought was a scam. What it was, however was an email from PowerNation TV Producer John Kurtz, contacting Joel about a tv host position available on the series Detroit Muscle. At the end of the email, Kurtz stated, "P.S., this is not a joke". But Joel thought otherwise.
"I blew him off for a good two or three days because I just convinced that it wasn't real. So, when we finally got done with the job, I called him back," Joel stated.
After talking about Joel's upbringing, familiarity of the show and convincing Joel it was real, Kurtz asked Joel if he was willing to fly out to Specialty Equipment Market Association (SEMA) show to interview for the job. The SEMA show is the largest automobile convention in the world, hosted in Las Vegas, Nevada each year. Joel was flown out to Las Vegas to interview.
"They pretty much stuck a camera in my face and said go. I thought I fumbled the bag. I really did. I was so nervous, and I wasn't really sure what they wanted. I felt like I failed the audition straight up and that's what I told Chelsea when I called her that night. I was convinced that it was over," Joel said.
But it wasn't over. Joel was contacted again by Kurtz, asking him to come out to Nashville for a second audition. Kurtz explained to Joel that he told the crew he could tell how nervous Joel was, so they wanted to give him another chance. PowerNation flew Joel and his wife Chelsea out to Nashville to meet the CEO of PowerNation, the crew and Detroit Muscle Host Tommy Boshers.
It was after this second interview where Joel's life was changed forever. Immediately after the interview was over, Joel was offered the position to join the PowerNation team as a co-host of Detroit Muscle with Boshers and leave his oilfield life behind.
Over the next two months, Joel and Chelsea made the transition from Wyoming to Tennessee. They sold their house in Casper, bought a house in Nashville, made two trips back and forth to move all their belongings to their new life in Tennessee. It wasn't until the two closed on their Nashville home in January 2022 where the new chapter of their lives began.
Life on TV
While Joel says it still hasn't really sunk in a year later how he got to live out his childhood dream, but he's able to appreciate how him hometown values have kept him the same person he was before beginning this journey.
"I get reminded all the time how cool of an opportunity this is. While the job aspect of my life has changed a lot, but I don't really know if my lifestyle has changed, and on camera they want you to be you," Joel said.
Working this past year co-hosting Detroit Muscle, Joel has been able to reflect on how his past experiences in life prepared him for this moment in time. He gives credit to being okay with not knowing where he wanted to go in life, but sticking to his moral values to guide him in a positive direction.
"Don't be in a hurry to grow up. Sometimes your biggest breakthroughs and the moments in life are going to happen later on. There's going to be times when you're down and you're going to doubt yourself more than ever, but if you stick true to yourself, good things happen. If you stick to your morals and trying to be a good person, the universe will do the rest for you," Joel mentioned.
Joel continues to prove day in and day out what it means to be from Upton, and is using his past experiences to live one day at a time, and never take life for granted.
You can catch Upton, Wyoming native Joel McMillan on PowerNation on YouTube, Samsung TV Plus, The Roku Channel, Vizio, Xumo or at www.POWERNATIONTV.com, or can download the PowerNation app on your mobile device.
By Kade McMillan
Courtesy of the Weston County Gazette.